It has been such a long time I wrote this blog that a lot has happened. To point out that I have done something else than just sleeping and feeling awful I wanted to share some highlights from this year 🙂 . I'm blessed with lots of friends and possibilities to do all kinds of fun and interesting stuff as long as I have some energy and a chance to rest enough afterwards. I'm not giving up on trying to live my life even when my adrenal insufficiency makes it difficult. But I do have to say I never thought or understood how tired one can become when pregnant! If AI exhaustion was bad, then this… More times I can count I've literally fallen on the sofa or bed, just to fall asleep the moment my head hits the pillow, or have my feet give up under me completely. No amount of willpower could keep me awake and functioning.
On Feb I had my 35th birthday (that I spent working) but before that I had the chance to go and celebrate my former coach and friend, Olympic athlete and weightlifter extraordinaire Anni Vuohijoki's book launch. Anni published her first book, Voima kanssamme (Power with Us) this year and yes, it's a great book and especially I recommend it to all women who are interested in becoming strong both mentally and physically in their lives ❤ .
I couldn't have been happier for Anni when she won her first weightlifting European Championships medals this year – bronze on clean&jerk and on total ❤ ❤ !! She is an exemplary athlete with professional team supporting her and has made huge progress the whole time I've known her. She makes a great example that if you want to reach the top, you need to have everything in order – your health, nutrition, mental game, finances, great coaching on all aspects and still remember to have fun!
Anni also keeps an English vlog nowadays, go and check it out here !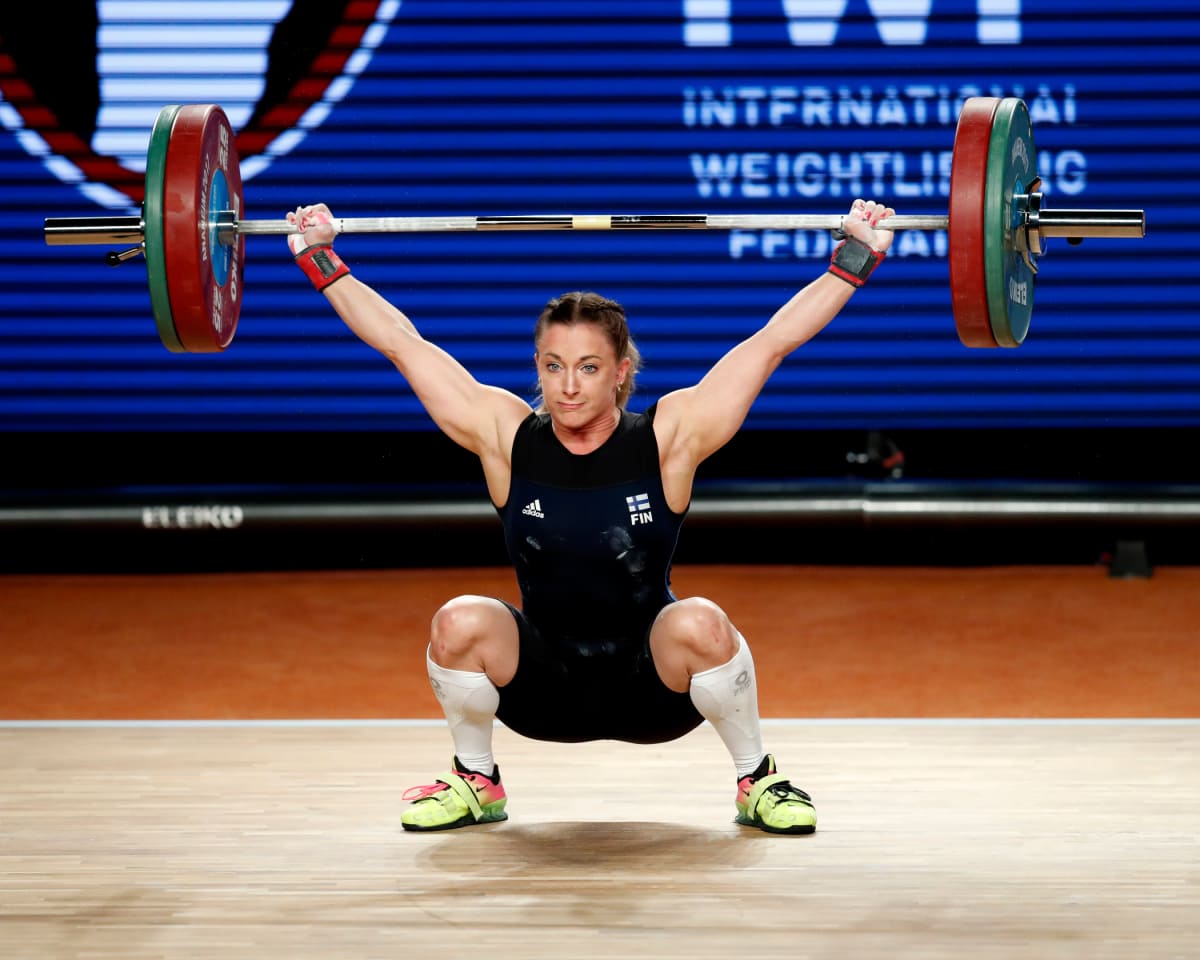 I've had lots of issues with my pregnancy that are still difficult for me to go through without crying. I will try to write about the health stuff later. But there was a scare that my baby wasn't growing normally – there are still issues that are followed, and I had to change my maternity hospital because of not getting treatment and consultations I needed due to both my adrenal insufficiency and problems with extremely low blood sugar that caused symptoms and was one factor why I was unable to work. I got symptomatic hypoglycemic attacks they simply refused to study and treat and was forced to go to private doctors and registered dietitian to try and sort things out with my health. The mental strain was unimaginable and if I wasn't fighting not only for myself but also for the sake of my unborn child I don't know how I would've made it sane.
I also had troubles believing I was pregnant as I didn't have a big baby bump until on my fifth month. Because of some suboptimal nutritional decisions made in the early pregnancy I gained almost 6 kilos in the first trimester (!!) and mostly felt like overweight person, not a pregnant woman. Also my placenta is placed very anterior so that I only started to feel real kicks on weeks 23-24 – I had only slight, weird, light touch sensations that could have been anything before.
On Easter, my Christmas came early when my favorite lecture team from Renaissance Periodization finally came to Finland to present all things related to recovery and nutrition for serious athletes ❤ . Science is truly stronger! Last time I saw Drs Israetel, Hoffman and Davis was on their London seminar two years ago. Read more on my trip on post "Nutrition, Training & Recovery" -seminar in London 🙂 .
Once again, the seminar was absolutely fantastic. I can wholeheartedly recommend everyone serious about their fitness and progress to check out RP's website and especially their ebook section as well as RP+ membership!
As a RP fan who follows their work there wasn't so much new to learn as for many others attending, but I got some cool new insights into volume landmarks in training and was able to ask tons of questions at their Q & A and also got them on video to share with my fellow fitness coaches on my fitness team Finnish Physique Academy with their permission. That was great! Especially I benefited from info about transitioning from diet to mass phase with female physique athletes and different methods of progress during a mesocycle when training petite females. I also got to ask questions my fellow coaches wanted to find out.
More on high carb, low fat massing:
To really learn all you can about recovery and adaptation and training volume, get RR's books Recovering From Training and How Much Should I Train? as they are both golden!
I have had issues with training as my tiredness and low mood have prevented me from doing as much as I would've liked, and then not accomplishing anything has made my mood even darker with lots of self accusations and shame. I know a lot of women are too tired to exercise as much as they'd like during pregnancy and I have my AI as complicating issue as well. If I was all fired up and energetic and feeling good I wouldn't be on sick leave now would I?? But coming to terms that my brain wasn't working at all and my body didn't respond to my wishes was a tough thing. Having friends to cheer me up was really important. There were a lot of times I felt really alone and sad in Hamina, as I only have one close friend there and I was too tired to reach out to even her most of the time.
Luckily I have lots of good friends in the Helsinki metropolitan area I got to see every time I had energy to drive to stay with my mother in Espoo ❤ . We went to train and have lunch with my personal trainer friend and see a mutual friend's gig in Helsinki with another. I've been to water running again – only once, but this week I'm going again with a friend to a nearby swimming hall. It also has outdoor swimming pool open in the summer and I'm already waiting anxiously to go! I've had troubles to go and do stuff by myself due to tiredness, brain fog and depression issues. Especially starting something has been almost impossible. I just procrastinate until forever, it seems.
On Mother's Day, we drove to Loviisa to visit my mother-in-law with my husband and the dogs. The weather was wonderful and afterwards we sat for a while in the city marina. We also visited the ruins of Loviisa bastioni, a fortress built in the 18th century.
The weather has been exceptionally warm and sunny for most of May here in Finland. Even warmer than in Spain I heard !! I don't feel so good in high temperatures especially AI wise, so most of the time I try to spend the hottest hours indoors and go out later in the evening. We had a nice picnic with my hubby one day at local Pitkäthiekat (Long sands) and he took both Franz and Maksim swimming. Franz actually hates to swim but he can if he has to… Maksim seemed to enjoy his first dip in the ocean, though! Afterwards they both were satisfied as the grueling heat had gotten to them, and refreshed from their swim they played at the beach for a while. There is still birds' nesting season and they were on leash and what a circus they made as they got tangled all over…
These past two weeks have probably been my happiest during this pregnancy. I'm not crying anymore, and I feel I have more energy to do things. I still sleep about 12 hours per day, but I'm not as brain fogged all the time as I was and have been able to exercise more consistently 3-4 times per week at the gym and do some light walking as far as I can. I've started to get contractions and low back pain if I walk too much. But I'll write about my pregnancy exercise routine more thoroughly next time!
Wishing you wonderful summery feelings,
xoxo,
Veera