As a prelude to this post, I will tell you a secret. Last Thursday, I messed up my diet. Oopsie. I was in a geriatric symposium with good company and after the day's lectures we had a dinner buffet and some wine. Well, at least I had wine! Two large glasses. Enough to cloud my judgement. I was in a great mood but also had been suffering from a lot of stress lately. So I figured what the heck. I let go of thinking about macros, my overall nutrition plan and whether it was a good idea to have any more wine. I went off the rails big time.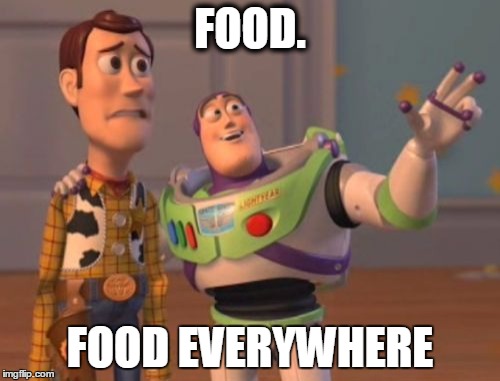 Instead of going straight home, I went and bought a bottle of white wine and food, food, food. That night I drank almost the whole bottle (ouch!) and ate a loaf of cashew-cranberry ciabatta bread nearly the size of my dog, a handful of chocolate cookies and half a bowl of ice cream. The next day I had a slight hangover. Luckily, only slight! But unlike previously, I didn't suffer from the often lot more dangerous and longer-lasting mental hangover.
Why didn't I fall into self pity, despair and self accusations over my dietary mistake? Or begin a week-long binge as I already blew it for one day? Why was I able to forgive my lapse and move on immediately the next day? There are a couple of reasons:
I look at the big picture. One night of over-indulgence won't wreck my whole year. Maybe it will set me back a few days. If so, what the heck? I'm not going into competition right now. I have room to be more flexible on a day to day basis. Of course I have to be more careful if I'm planning on entering a powerlifting meet where I'll need to be at a certain weight.
I've learned to forgive myself and move on. There's no reason to go over past mistakes. Any self mutilation, mental or physical – for example, restrictive eating after a binge – won't magically erase the calories consumed. It won't make me feel better about myself or prevent the same from happening again. Instead, I can learn from my mistakes and try to be more mindful in the future. So – less wine for me in the next congress 😀
Looking back, I haven't really been eating that well this year. At times, I've followed my calories and macros, but for a long period I was simply too tired and exhausted to put in any effort or care. I know it's not ideal. But my life isn't ideal, either. I can't dwell too long on remembering how many cupcakes I ate last week, or how many exercise sessions I missed. I need to focus on recovering my strength both physically and mentally. If I want to eat properly and fuel my body, I need to be able to plan my diet, go to the grocery store, and prepare my meals. I didn't have the energy to do that. I was that tired. That's one more reason why I need to do what's really best for me, not what's best in someone else's opinion about my treatment protocols for AI, immunodeficiency, asthma, hypothyroidism, back issues etc. I want and need more than just to be able to barely function on a day to day basis. I want to improve my physique and performance.
Flexible dieting for me means flexibility in both food choices and my mindset about eating. I don't need to categorize foods into "good" and "bad". I don't need to binge eat and restrict. I don't need to cut calories drastically. If I slip from my diet plans somewhere along the way, I'll get back into the saddle the next day and continue.
Below I've added some of the resources that have affected my way of thinking about nutrition. First, here's a link to a great audio excerpt from Eric Helms' Nutrition Pyramid book from Sigma Nutrition Radio podcast by Danny Lennon: Your Mentality Towards Nutrition – I really recommend you listen to this.
The Muscle & Strength Pyramid Books can be bought here: http://muscleandstrengthpyramids.com/
Here's a playlist going over the whole Nutrition Pyramid. Especially Part 6 – Lifestyle & Behavior is diamond!
Here in this episode of Physique Science Radio, Layne Norton and Sohee Lee talk with Kori Propst about the psychology of dieting, nutrition and fitness and eating disoders. Kori is a figure competitor and a PhD cancidate in Psychology. This is again one of my favorite episodes right now – a real treat! ❤
Read more about Kori and her work at: https://www.thedietdoc.com/
I'm learning more about my body, it's nutritional needs and my diet psyche every day. Some lessons obviously need to be re-learned. Again and again. But such is life sometimes. I'm not perfect. But I can strive to be better and smarter. And enjoy eating :).
Great, nutritious and delicious week to everyone – and remember to be flexible! ❤ ❤
xoxo,
Veera